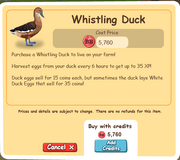 The Whistling Duck is one of the Animals available for purchase in the Shop.
Statistics
Edit
Cost - 5,760 Credits
Description - Harvest eggs from your Whistling Duck every 6 hours to get up to 35 XP.Duck Eggs sell for 15 coins each, but sometimes the duck lays the White Duck Eggs that sell for 35 coins.
Ad blocker interference detected!
Wikia is a free-to-use site that makes money from advertising. We have a modified experience for viewers using ad blockers

Wikia is not accessible if you've made further modifications. Remove the custom ad blocker rule(s) and the page will load as expected.