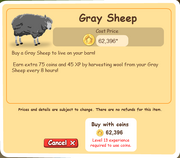 The Gray Sheep is one of the Animals available for purchase in the Shop.
Statistics
Edit
Cost - 62,396 Coins
Description - Earn extra 75 coins and 45 XP by harvesting wool every 8 hrs.
Heading 3
Edit
---
Article name porc albastru text you wantvei primi 2000xp si 60000 monezi la fiecare 6 ore cand al cureti [http://www.hi5.com.barnbuddy/php File:Pig bleu.jpg alt text
Ad blocker interference detected!
Wikia is a free-to-use site that makes money from advertising. We have a modified experience for viewers using ad blockers

Wikia is not accessible if you've made further modifications. Remove the custom ad blocker rule(s) and the page will load as expected.